Minnesota Music Coalition (MMC) is a 501(c)3 nonprofit organization based in St. Paul, serving Minnesota musicians statewide of all ages, musical styles and genres, and backgrounds. 
The mission of the Minnesota Music Coalition is to support and connect Minnesota's diverse community of independent musicians. We are pleased to share the program results from our most recently completed fiscal year, and the financial results from our most recently completed annual financial reports.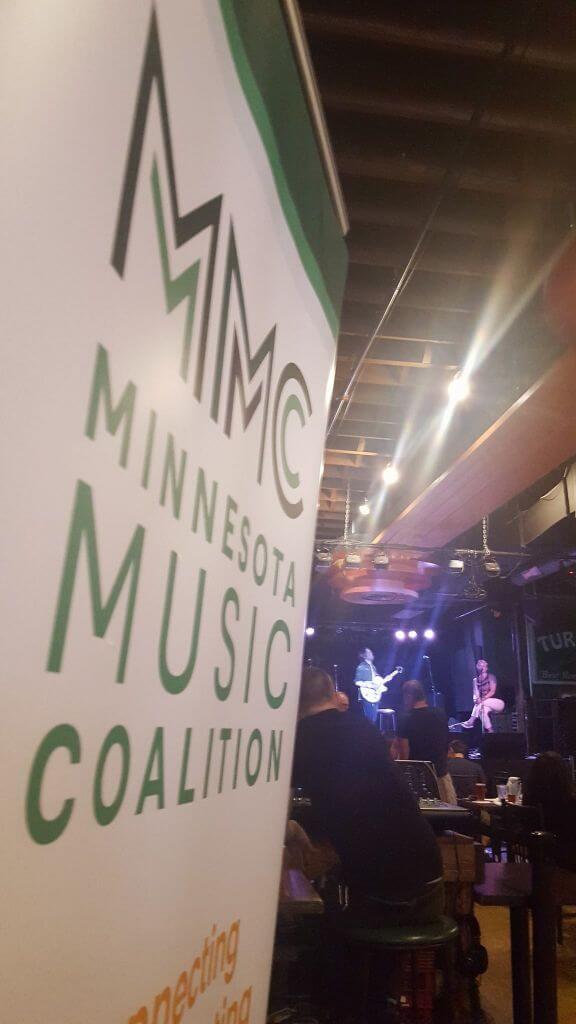 Program Impact (7/1/21-6/30/22)
Caravan du Nord - Bringing a showcase of Minnesota musicians across the state, MMC implemented concerts, workshops, and networking events in Alexandria, Austin, Worthington, Mankato, Faribault, Detroit Lakes, Duluth, Hibbing, and Red Wing during the fall of 2021. The tour featured 27 musical acts and 17 workshops.
MN Music Summit - Our 2022 Summit was three days full of activities for the music community. Concerts at Mall of America, Live from The Mitchell in Duluth, and more featured a variety of MN musicians. With a theme of "Building Forward Together", 35 industry experts led workshops, discussion panels, and clinics on an array of valuable topics. By offering a sliding scale for registration, 40% of attendees were able to attend for free.
Performance Opportunities - MMC continued to grow partnerships for paid performance opportunities. Partners included: Summit Brewing Company, Mall of America, Downtown Minneapolis Council, St. Paul Downtown Alliance, Chankaska Creek Winery, Republic MSP, St. Paul Chamber of Commerce, Canterbury Park, ReBoot Showcase, IDS Center Crystal Court, St. Paul Parks Conservancy, Musicant Group, College of St. Scholastica, Minnesota Events and Festivals Association, Hook and Ladder Theater. This fiscal year, MMC has booked 314 performances!
Mentoring - Artists have a brief interview with MMC staff to determine goals and what they are looking for in a mentor, and we personally match them with an expert in that field.
Vendor Discounts - 23 businesses offered discounts for MMC members to help alleviate business expenses.
Workshops - We held six web workshops on a variety of topics throughout the year, in addition to workshops at Caravan du Nord stops and the MN Music Summit. Most are archived on the MMC youtube channel.
Networking Events / Open Mic - MMC held several online networking gatherings for statewide musicians. In March, we launched a new Open Mic & Networking gathering monthly at Summit Brewing Company.
Mendoza Open Door Fund - This fund continued to help alleviate barriers to participation for musicians, namely travel costs for performance opportunities across the state. Gifts were given this year in memory of Carlos Mendoza, the late father of founding Board member Tony Mendoza, who the MOD Fund is named in honor of.
Safer Spaces Initiative - MMC sponsored this grassroots initiative to address harm in the music industry. We funded several Sexual Violence 101 trainings, and enlisted a project manager to oversee the initiative's administration. The group held a visioning session at the MN Music Summit in June 2022.
Fiscal Sponsorship - MMC was fiscal sponsor to 3 projects in this fiscal year.
Voices in the Back, a web series and podcast with performances and conversations by BIPOC MN music professionals on topics of inequality in the MN music scene
The New Standards' SCORE! tour, a showcase of songs and themes from favorite cult and classic film scores
Minnesota Original Music Festival, set to hold its first free festival with live music and workshops for musicians in July 2022
Financial Impact (7/1/21-6/30/22)
Balance Sheet Year End (6/30/2022)
Assets
Cash  $22,738
Accounts Receivable  $36,991
TOTAL ASSETS  $59,729
Liabilities
Accounts Payable $2,850
Temporarily Restricted Funds  $19,123
Equity
Retained Earnings  $22,423
Unrestricted Net Assets $12,865
Net Income  $2,468
TOTAL LIABILITIES & EQUITY $59,729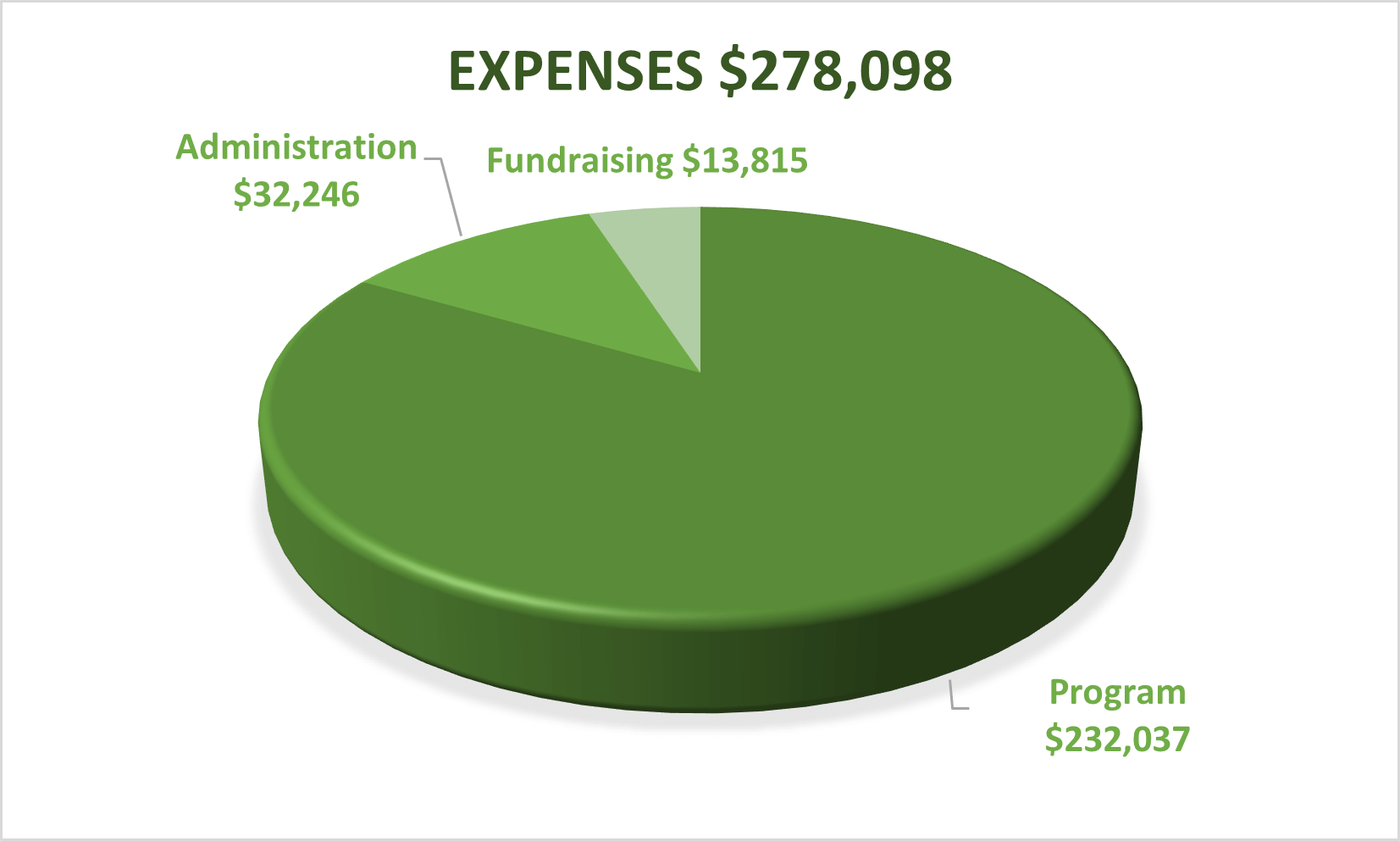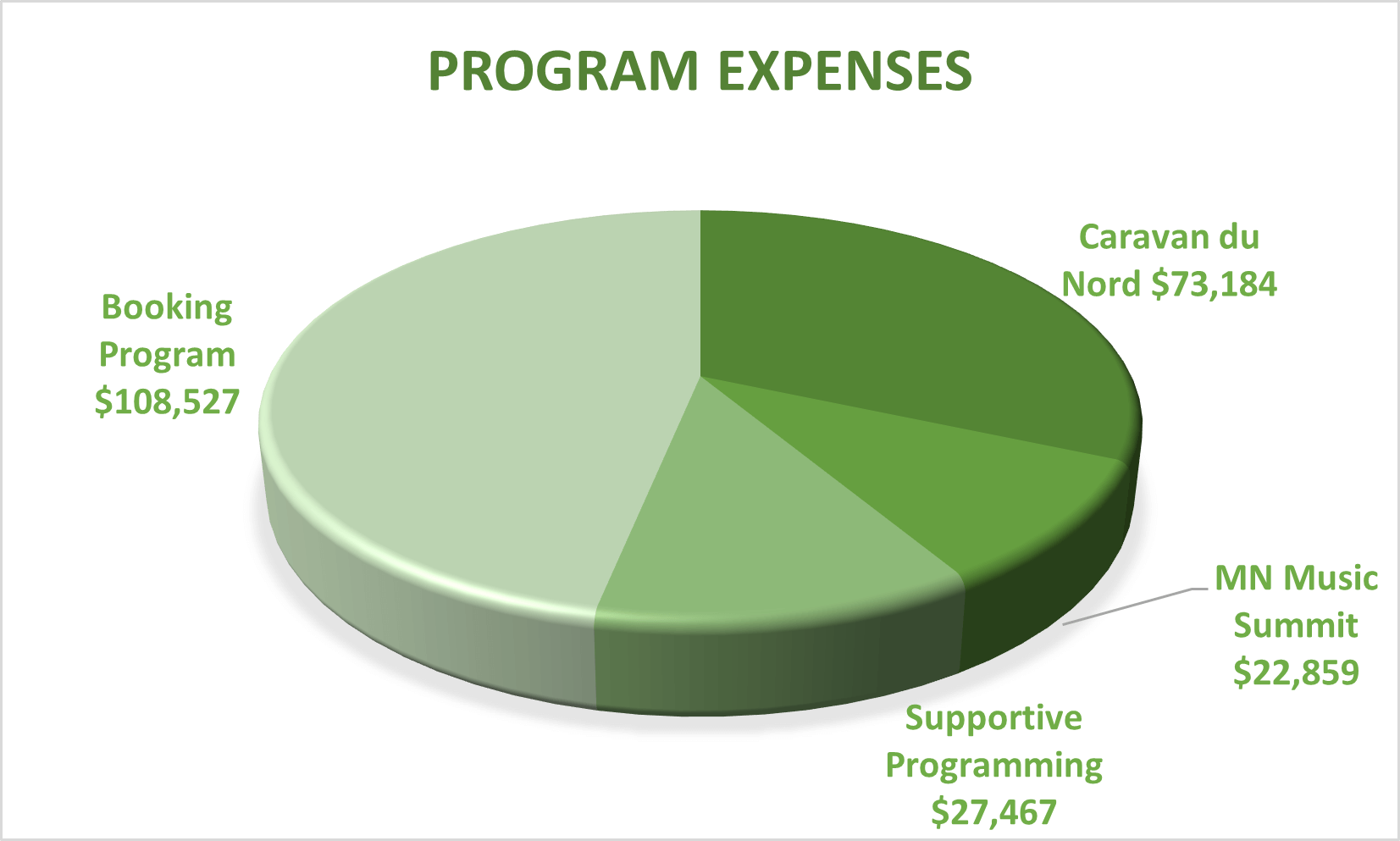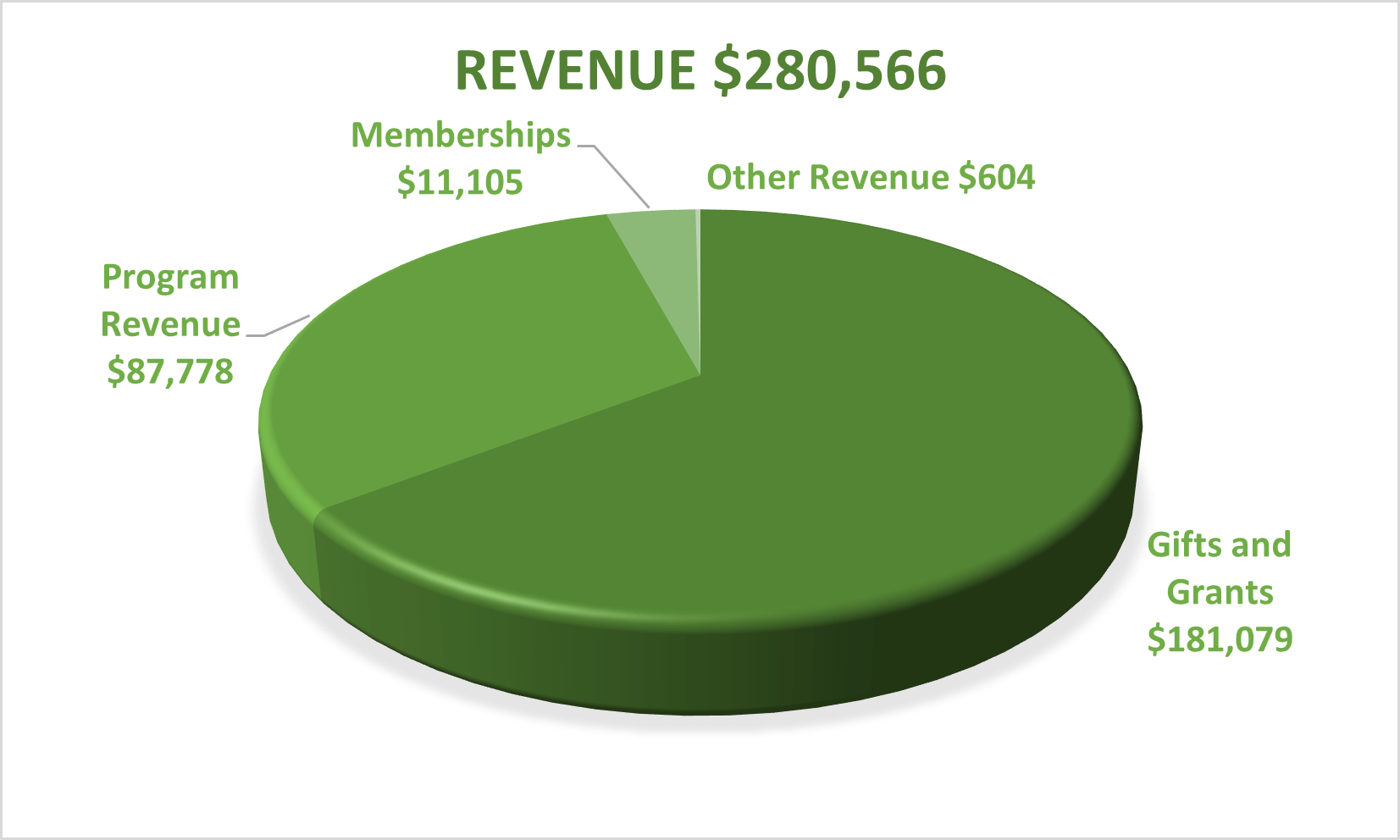 Donors and Partners (7/1/21-6/30/22)
MN Music Summit
MN Music Summit additional sponsors and partners: Scott LeGere, Augsburg University Music Therapy Program, Minnesota State University Mankato, School of Rock, Chartmetric, and Brad Matala.
Planning Task Force: J. Anthony Allen, Youa Vang, Kovan Baldwin, Ry Edwards, Joe Scarpellino, Craig Grossman, Hassan Shahid, Nicole Mulder, David Safar, Cameron Cloman, Scott LeGere, Steve Cole, Amanda Grace, Jora Bart, David Ostrom, Trevor McSpadden, Joanna Schnedler
Music Selection Panel: Youa Vang, Kovan Baldwin, Ry Edwards, Cameron Cloman, David Ostrom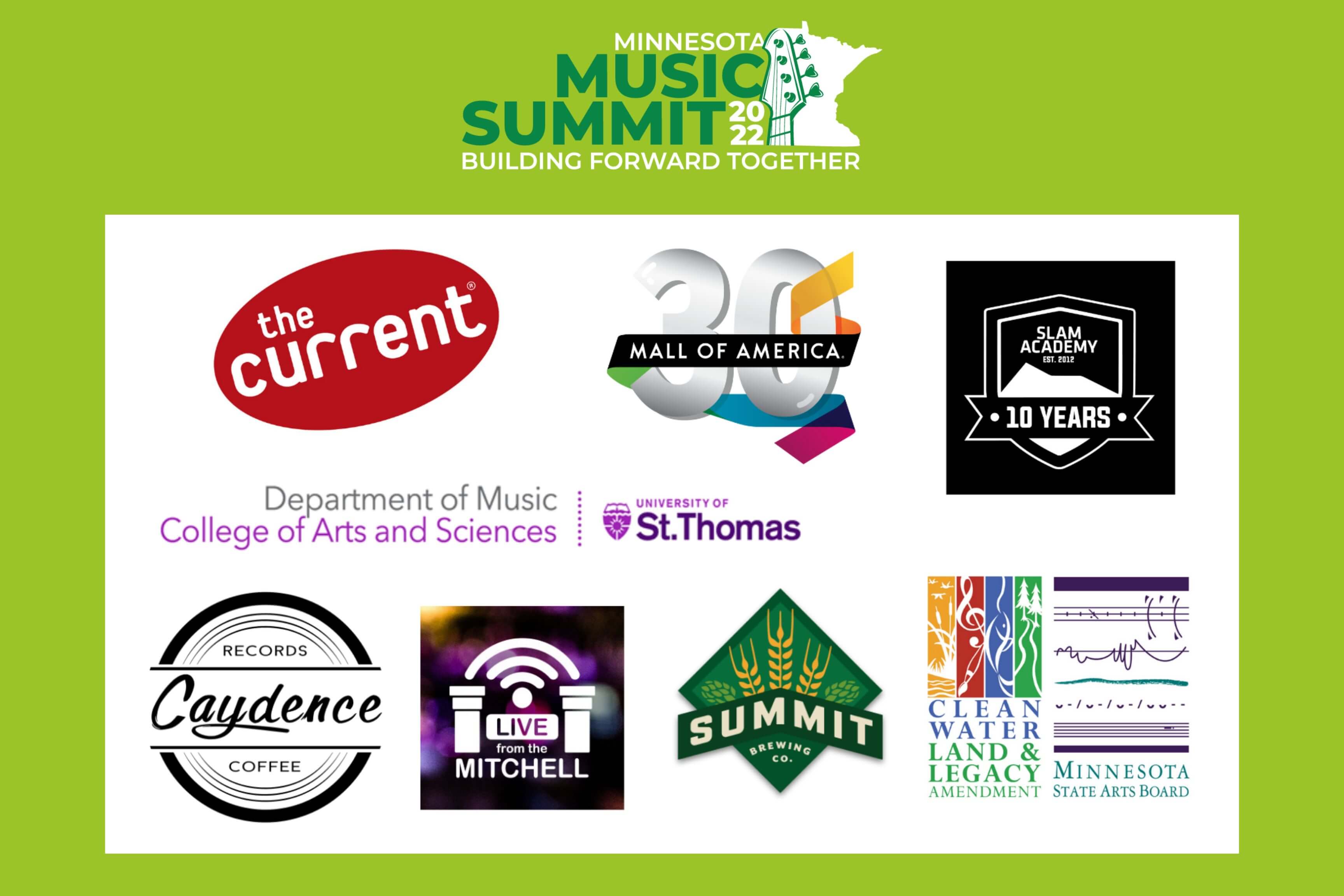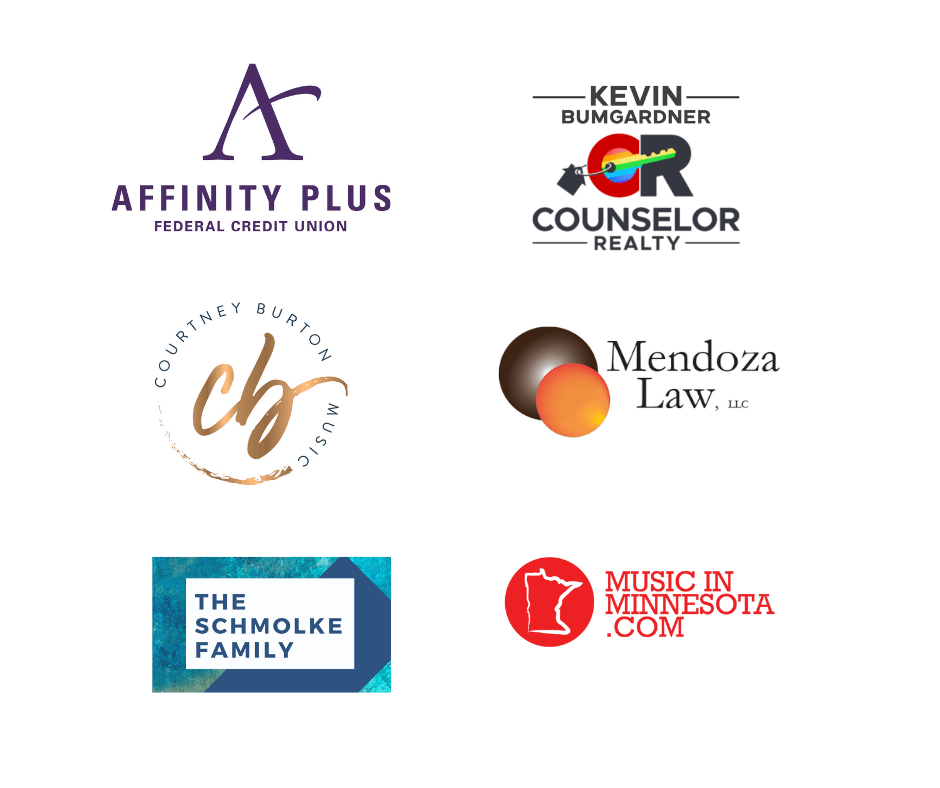 Silent Auction Donors: 
The Armory, Minneapolis
Fairmont Opera House
Historic Holmes Theatre, Detroit Lakes
Reif Center for Performing Arts, Grand Rapids
Alex Kasick
Skylab Glass Arts
David Schuster
Mark Gehring
Scott LeGere
Canopy by Hilton
Chicago Avenue Fire Arts Center
Corazon
Craftapped
Paramount Center for the Arts, St. Cloud
Dessa
Duluth Art Institute
Sheldon Theater, Red Wing
Bill and Mary McKoskey
HiFi Hair and Records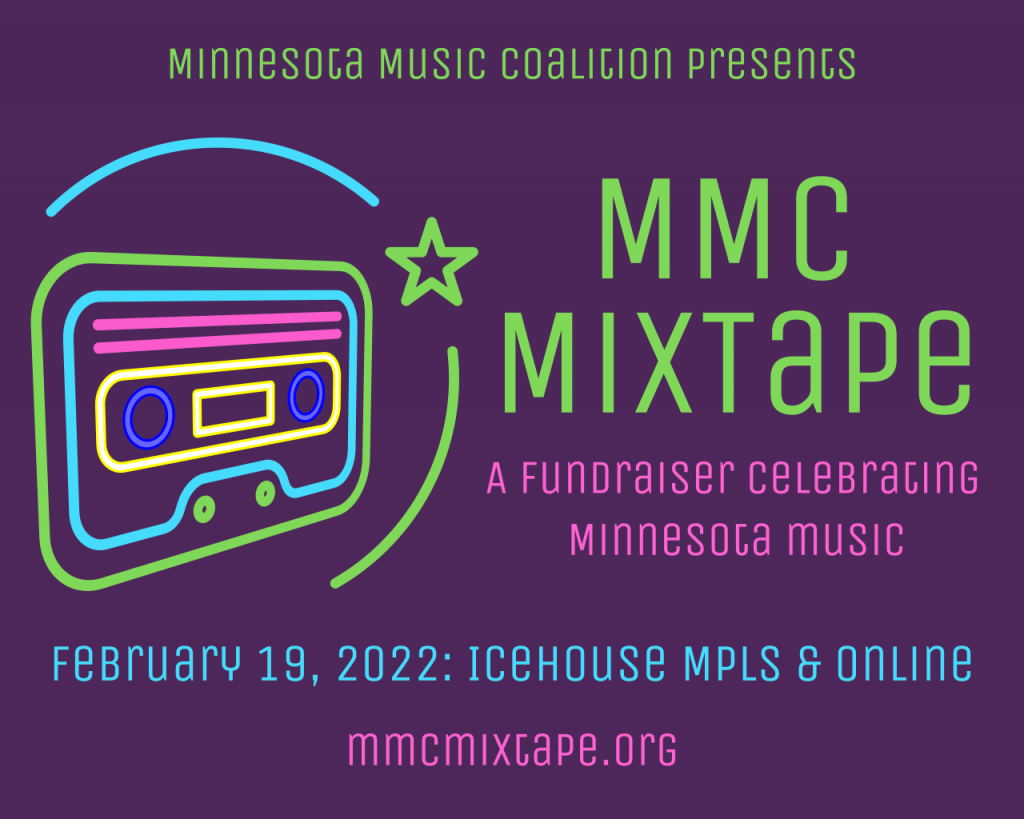 Silent Auction Donors, cont.:
Dawn Montez
Joanna Schnedler
Friends of the St. Paul Public Library
School of Rock - Plymouth
The Parkway Theater, Minneapolis
Chase Bill Audio
The New Standards
Paradise Center for the Arts, Faribault
Mike Warner
Paul Boblett
Heart Centric Devine Creations
Mall of America
Luxjoy & Comfort
Summit Brewing Company
Hobby Farmer Canning Co.
Science Museum of Minnesota
MN Black Box
Anonymous
MMC MixTape
Special Thanks:
Wherehouse Productions
IceHouse MPLS
Mostly Minnesota Music
Courtney Burton
Brian Turner
Lucy Nelson
Steve Cole
Alexandria Mueller
Secrets of the City
Nicole and John Mulder
Planning Committee:
Julie Chapin
Diane Miller
Mary McKoskey
Sara Horishnyk
Shantel Dow
Scott LeGere
Alexei Moon Casselle
Paul Boblett
Janis Weller
Dawn Montez
Steve Weber
David Ostrom
Joanna Schnedler
Music Selection Panel:
Diane Miller
Paul Boblett
Alexei Casselle
Joanna Schnedler
David Ostrom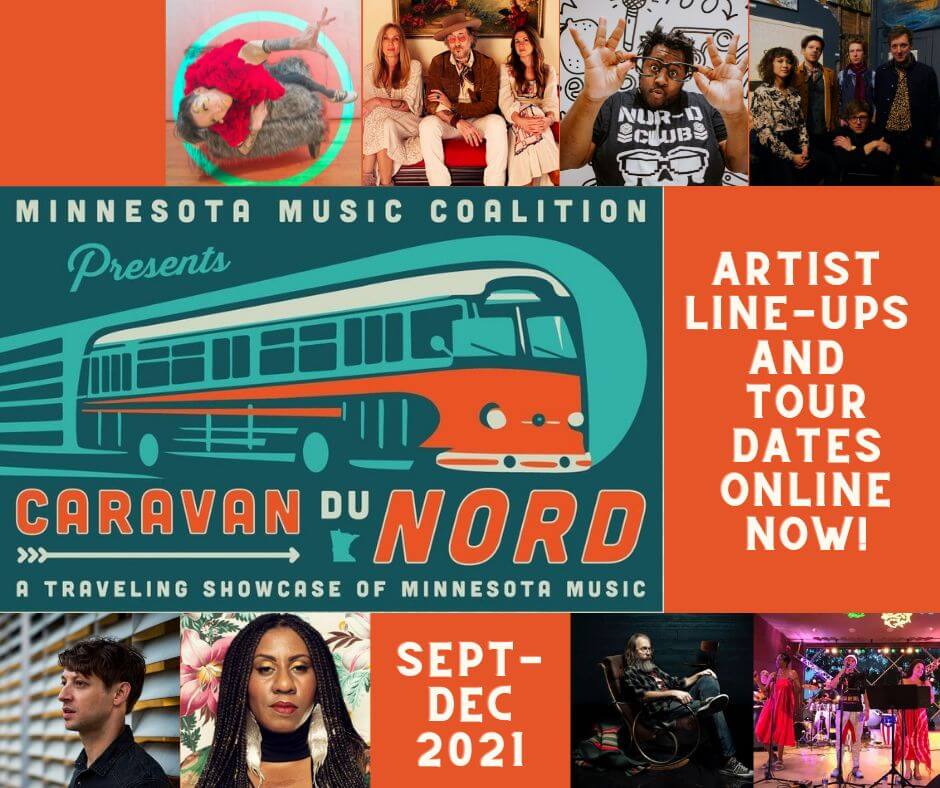 Caravan du Nord
The 2021 Caravan du Nord was made possible by the voters of Minnesota through a grant from the Minnesota State Arts Board, thanks to a legislative appropriation from the arts and cultural heritage fund. Sponsored by The Current.
Presenting partners:
Theatre L'Homme Dieu, Alexandria
Paramount Theatre, Austin
Sheldon Theatre, Red Wing
Memorial Auditorium, Worthington
Minnesota State University Mankato
Historic Holmes Theatre, Detroit Lakes
Sacred Heart Music Center, Duluth
Shattuck St. Mary's Newhall Auditorium, Faribault
Hibbing High School Auditorium, Hibbing
Music Selection Panel:
Symone Wilson
Basil Considine
Eric Parrish
Charles Duda
Ryan Bynum
David Ostrom
Foundation and Corporate Gifts and Grants
3M Community Giving
Dow Artists
Explore Minnesota Tourism Marketing Grant
Historic Holmes Theatre
Horowitz
McCollum Crowley
McKnight Foundation
Medtronic
Minnesota State Arts Board
Northstar Artists
SBA Paycheck Protection Program
SBA Shuttered Venues Operating Grant
Summit Brewing Company
To the Bridge Foundation
United Health Group
In-Kind and Volunteer Support
Drew Barbes
Christin Crabtree
Steve Cole
Julie Chapin
Carl Erickson
Meg and Chad Halsten
Dan Israel
Scott LeGere
Bobby Maher
Luke McGreavy
John Schnedler
Luke Smith
Youa Vang
Ken Abdo
J. Anthony Allen
Rick Allen
Constance Anderson
Paul Anderson
Allan Angen
Anonymous
John Barghini
Don and Lisa Beaupre
Barbara Berdahl
Colleen Borgendale
Anna Boroff
Jesse Brodd
Kevin Bumgardner
Bob and Beth Burns
Courtney Burton
Joel Chechik
Steve Cole
Chris and Connie Coleman
Kevin Curry
Dan DeVoe
Shantel Dow
Eugene Dukes
David Dvorak
Julie Dyke
Jonathan Elconin
David Enge
Dustin and Sabrina Fay
Sonia Feder-Lewis
Jerilyn Foster
Daniel Fowlds
Terrence Frederick
Mary and Patrick Haggerty
Chuck Hermes
Annamary Herther
Anne Johnson
Keith Jones
Jeremy Kalin
Jennifer Kalmes
Rob and Deb Kemp
Daly Kevin
Therese Kiser
Chad Kulas
Karla Larsen
Scott LeGere
Conrad Leifur
Michael Lewis
Jon Lewis
Darby Lunceford
Mary Mansour
Bob McCollum
Martha M. McDermott
Donna and Gerald McKoskey
Mary and Bill McKoskey
Anthony Mendoza
Joe Meuwissen
Joe Milla
Christi Monson
Dawn Montez
Garth Morrisette
Chris Osgood
Kate Pearce
Jean and Kris Pearson
James Pence
Kevin Pleasant
Annette Schiebout
Timothy and Julie Schmolke
Joanna and John Schnedler
Paul Schumann
Krisanthy Sikkila
Lars Smeenk
George Soule
Megan & Jack Sparks
John Stout
Karin Strub
Jeffrey Sugerman
Wendy Tien
Annie and Elizabeth Tigan
Andy Tso
Tom Vogt
Michael Walz
Donald Watson
Steve and Sharon Weber
Janis and David Weller
David West
Chris Zieg
Brian Zirngible
Lee Zukor